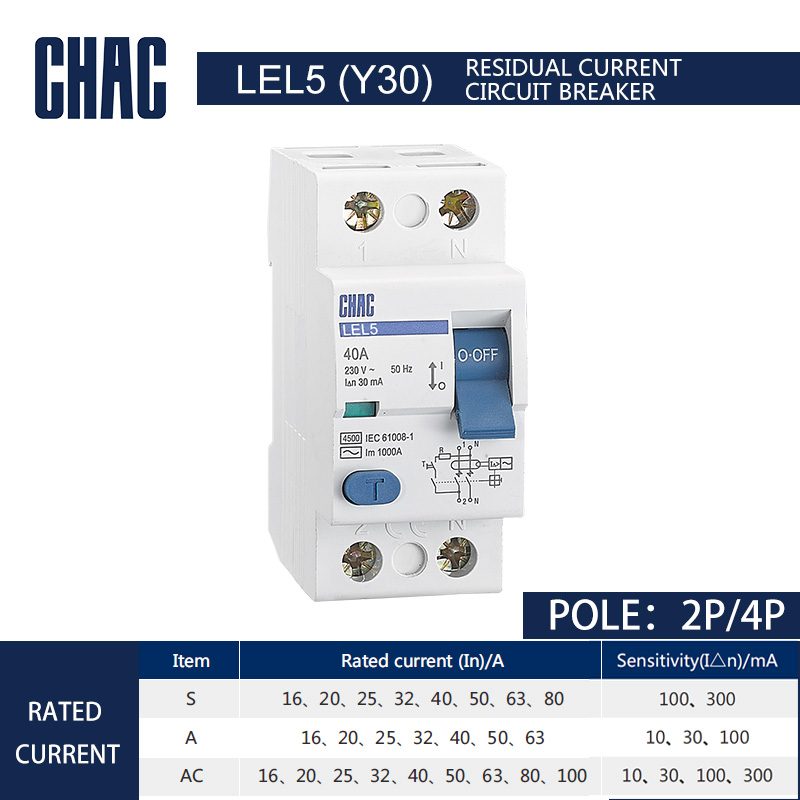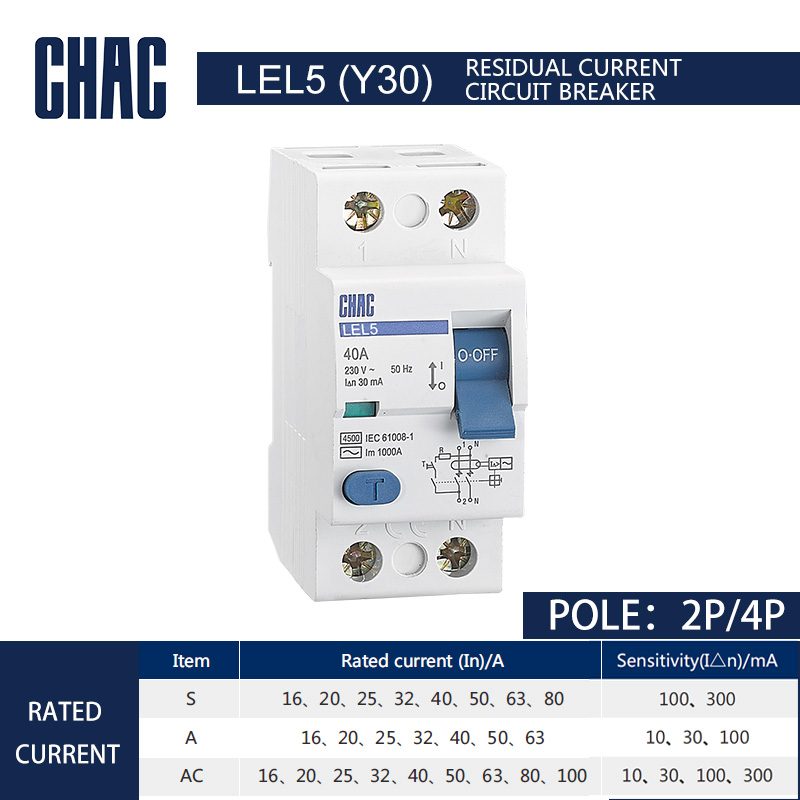 LEL5 (Y30) 1kA Residual Current Circuit Breaker
CCCME Member
Recommended by CCCME
Product Details

Company Profile
- Control electric circuits. - Protect people against indirect contacts and additional protection against direct contacts. - Protect installations against fire hazard due to insulation faults. - Single phase and three phase applications(220V/380V) - Wide variety of rated tripping currents
1 Application
Residual current circuit breakers are used in housing ,tertiary sector and industry.
- Control electric circuits.
- Protect people against indirect contacts and additional protection against direct contacts.
- Protect installations against fire hazard due to insulation faults.
- Single phase and three phase applications(220V/380V)
- Wide variety of rated tripping currents
2 Type designation
3 Nominal operation conditions
1. Ambient operating temp. range:-5℃~40℃;≤90%/20℃;50%/40℃
2. Operating altitude: ≤2000m
3. Mounting type:Din rail embedded(TH35-7.5).
4.Pollution degree:2
5.Overvoltage category:Ⅱ、Ⅲ
6.Terminal connection type:Cable
7.Torque : 2.5 N·m
4 Technical data
Specifications

Frame size current

100A

Rated operational voltage(Ue)

AC230V/2P、AC400V/4P

Rated insulation voltage(Ui)

AC400V

Rated current(In)

See Table 2

Rated impulse withstand voltage(Uimp)

4KV

Rated sensitivity(I△n)

See Table 2

Poles

2P、4P

Rated residual making &breaking capacity(I△m)

1000A

Rated conditional short-circuit current(I△c)

3000A

Tripping time

<0.1s

Mechanical life

4000

Electrical life

2000

Protection degree

IP20

Compliant standard

GB/T 16916.1

Certification

CCC
Table 2
| | | |
| --- | --- | --- |
|  Type | Rated current (In)/A | Sensitivity(I△n)/mA |
| S | 16、20、25、32、40、50、63、80 | 100、300 |
| A | 16、20、25、32、40、50、63 | 10、30、100 |
| AC | 16、20、25、32、40、50、63、80、100 | 10、30、100、300 |
5 Conductor requirements and cross-sectional area
| | |
| --- | --- |
| Rated current(In) | Nominal cross-sectional area (mm2) |
| 16A | 2.5 |
| 25A | 4 |
| 32A | 6 |
| 40A | 10 |
| 50-63A | 16 |
| 80A | 25 |
| 100A | 35 |
6 Order specifications
When ordering circuit breakers, the following points should be specified:
a) Product models, such as LEL5;
b) The number of polar lines of circuit breakers, such as 2P;
c) The rated current of the circuit breaker, such as 63A;
d) Rated residual operating current, such as 100mA;
e) Instantaneous release type: S type
f) Order quantity, e.g. 100 sets
Order template: 100 LEL5 2P S 63 100mA
7 Dimensions (unit:mm)